Virtual GROUP THERAPY Conference May 8, 2020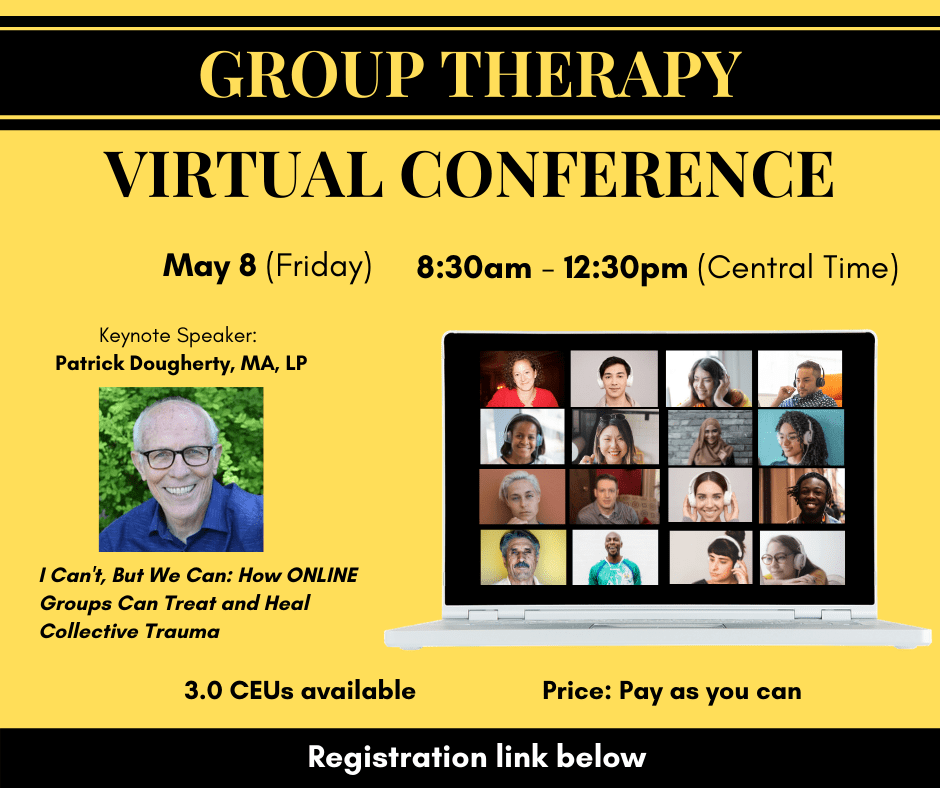 We have post-poned our two-day in-person group therapy conference until fall 2020 (we will start exploring possible dates this summer). We will hold a half-day Group Therapy VIRTUAL Conference on Friday May 8th. This conference will be a mini-version of the two-day event that was planned. Please continue reading for full details, and click below if you'd like to register.
You can REGISTER at this link: https://forms.gle/LPEdi8Syd3tFgS8U6
Purpose: This half day conference will provide didactic and experiential group training to enhance and increase your ability to be a fully human and present group psychotherapist. You will have a chance to practice emotional attunement, interpersonal process, and other group therapy skills through an ONLINE format.
Schedule
8:30am – 9:00am Welcome, Introductions, Instructions
9:00am – 10:00am Keynote – I Can't, But We Can: How Groups Can Treat And Heal Collective Trauma, Patrick Dougherty, MA, LP
10:15am – 11:45am Breakout Groups/Workshops (See options below)
12:00pm – 12:30pm Large Group Debrief, Evaluations
12:30pm – 1:30pm (Optional) Virtual Social Lunch, Networking & Exploring options for future conferences
Keynote: I Can't, But We Can: How Groups Can Treat And Heal Collective Trauma
Our communities, country, and world suffer from many collective traumas that create fear, anger, and social despair. Such collective trauma affects not only our clients but also ourselves. In addition, collective trauma impacts the issues, how they are presented, and how we respond in therapy.
Like our clients, many of us feel overwhelmed by collective trauma. And, as in our clients, we can become distressed and reactive or numb and avoidant, which are natural responses to trauma. But we are now learning that one of the most effective tools in treating collective trauma is to engage in collective response.
Whether in a group of three or 103 people, utilizing paradigms and practices for traversing these turbulent waters while remaining in connection with others, we can process the acute symptoms while strengthening our resilience. In small and large groups, this keynote guides participants through intrapersonal and interpersonal processes that explore the impact of collective traumas. By embracing our own vulnerability and being fully human with colleagues, we acquire the capacity to treat collective trauma symptoms and contribute to its healing.
From this Keynote You will learn:
Practices to increase a stronger sense of embodied resourcefulness in yourself and group members
Strategies for building group resilience through clarifying a shared intention and creating a single group nervous system
Protocols for teaching attuned presence for members to use in small group processing
How to use the therapist's humanity and vulnerability appropriately to help foster the healing of our clients and our communities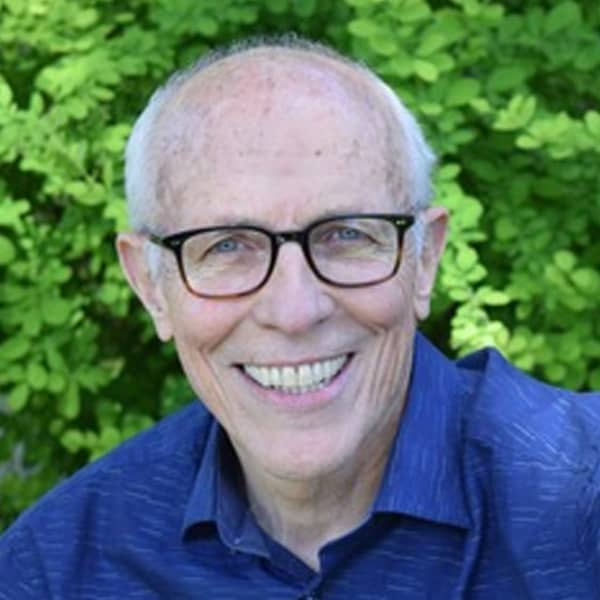 Patrick Dougherty, M.A., L.P. is a licensed psychologist who has been in practice over 40 years offering individual, couples and group therapy focusing on healing the trauma that prevents a full engagement with life. He has also been working with social despair and collective trauma (movingthroughit.org) since the early days of his practice. He is a member of the Pocket Project (pocketproject.org), an international group of people studying with Thomas Hubl and developing methods to identify and treat inter-generational and collective trauma. He has written numerous articles and two books, Qigong in Psychotherapy and A Whole Hearted Embrace.
Breakout Sessions (10:15-11:45am)
You will have the chance to engage in one breakout small group experiential (6-12 participants) or workshop. The breakout session descriptions (below) also note how much the session will be didactic versus experiential.
The small group experientials indeed have a strong experiential component. You will be asked to engage in group processing activities under the direction of the group leader(s). This is NOT a therapy group, but members will engage in group work that approximates what could occur in a treatment group in a way that fosters learning and helps develop your skills as a group interventionist. The norms of confidentiality and sensitivity will be observed, and your level of participation is up to you.
This experiential learning occurs through as study actual group issues as they organically arise in your group work together. This 'real-time' group work creates a learning environment that is not possible in didactic, role-playing, or other forms of trainings.
If you have attended an institute or group therapy conference from the American Group Psychotherapy Association (or one of their affiliate societies) you likely have a good understanding of what we mean by the experiential nature of these breakout sessions.
At the conclusion of your experiential breakout session, you will have a chance to ask your small group leader(s) about choices they made and their theoretical underpinnings. Additional information may be presented in didactic forms and handouts
Breakout Session Options
(Click HERE for full details)
You will have the chance to attend ONE of these five breakout sessions during this conference. Many of these sessions (plus more) will be offered again during out two-day in-person conference (hopefully during fall 2020). We will send an online form to all registered participants the week before the conference so that you can select your top three choices.
You can CLICK HERE to read the FULL DETAILS about each breakout session.
(1) Small Group Experiential Leader: Jessi Leader, LMFT
Title of Small Group Experiential: Facing Anxiety in Starting Groups

80% Experiential, 20% Didactic
Anxiety always seems to be present when starting a group. Group members feel anxious as they consider joining a group, and especially as they show up for the first session. Group leaders often feel anxious as we consider developing a group, referring a client to a group, and especially as we show up for the first group session. This anxiety can be valuable and helpful while also detrimental. In this small process experiential we will address our anxiety as group leaders, and explore ways that it is helpful and hurtful to starting, and leading, groups. We will pay particular attention to anxiety about ONLINE group work. We will also notice how our anxiety might parallel that of group members. We will practice tuning into our own anxiety in a way that helps us empathize with each other, as well as with our clients. We also hope that this session will help you "get unstuck" from any unproductive anxiety that is holding you back from starting any group(s) that you would like to run.
(2) Small Group Experiential Leader: Nate Page, PhD, LP
Title of Small Group Experiential: Activating and Illuminating the Here-and-Now in Your ONLINE Therapy Groups

90% Experiential, 10% Didactic
Irvin Yalom has continually asserted that the core of group therapy is working in the here-and-now. This experiential group will help you practice both ACTIVATING and ILLUMINATING the here-and-now in an ONLINE group setting. We will practice shifting our group attention from the "there-and-then" to the "here-and-now", from thoughts and feelings about the past/future to those of the present, from generalities to specifics, from the unspoken to the spoken, and from the abstract to the concrete. We will also notice when we are experiencing strong cohesion as a group and explore our barriers when we are feeling disconnected, out of sync, or otherwise struggling to perform meaningful work together
(3) Small Group Experiential Leader: Brian Post, PhD, LP
Title of Small Group Experiential: The First Session of a Process Group: Using Structured Activities to Prepare Clients for an Unstructured Group Therapy Experience

90% Experiential, 10% Didactic
Most clients do not have experience with process groups. While it is important to educate clients about what to expect during the screening and preparation process, this intellectual knowledge is typically not accessible to our clients during the first group session due to their anxiety about starting the group. Beyond encouraging client introductions, many therapists are also unsure how to start a therapy experience that is intentionally unstructured. In my experience using structured activities that promote awareness of the here-and-now and candid interpersonal sharing sets the group up for success by giving them a lived experience that no handout or therapist monologue could teach them. 

This group experience will include a brief guided mindfulness activity, sharing of personal struggles, and a first impressions exercise. There will also be a debrief period for participants to reflect and ask questions. 
(4) Small Group Experiential Leader: Jon Lewis, PhD, LP
Title of Small Group Experiential: Working with Silence in Group

80% Experiential, 20% Didactic
Silence has many different meanings in the group setting, and thus evokes different memories, thoughts, and emotional states. This didactic/experiential small group experience will help group leaders not only identify and discern the different meanings behind silence, but also assist group facilitators in harnessing silence to move the group forward in its development.
(5) Workshop Leader: Amanda Storey, PsyD, LP
Title of Workshop: Managing Challenging Group Situations

40% Experiential, 60 Didactic
Managing challenging group situations is a necessary skill for effective group leadership. This workshop will explore how to manage challenging group members as well as difficult situations. We will also address some of benefits and challenges of managing these challenges in ONLINE group work.
Price: Pay what you can
The value of this conference is $145. If you have financial concerns, please come as our guest with no payment. On your registration form you will have three options: (1) pay the full price, (2) enter your own price that feels appropriate to you and your situation, (3) pay nothing.
We are happy to answer any questions that you might have about this conference. Please reach out to one of us on the leadership committee, or you can submit a question HERE.