Healing the Healer Recovery Retreat for Therapists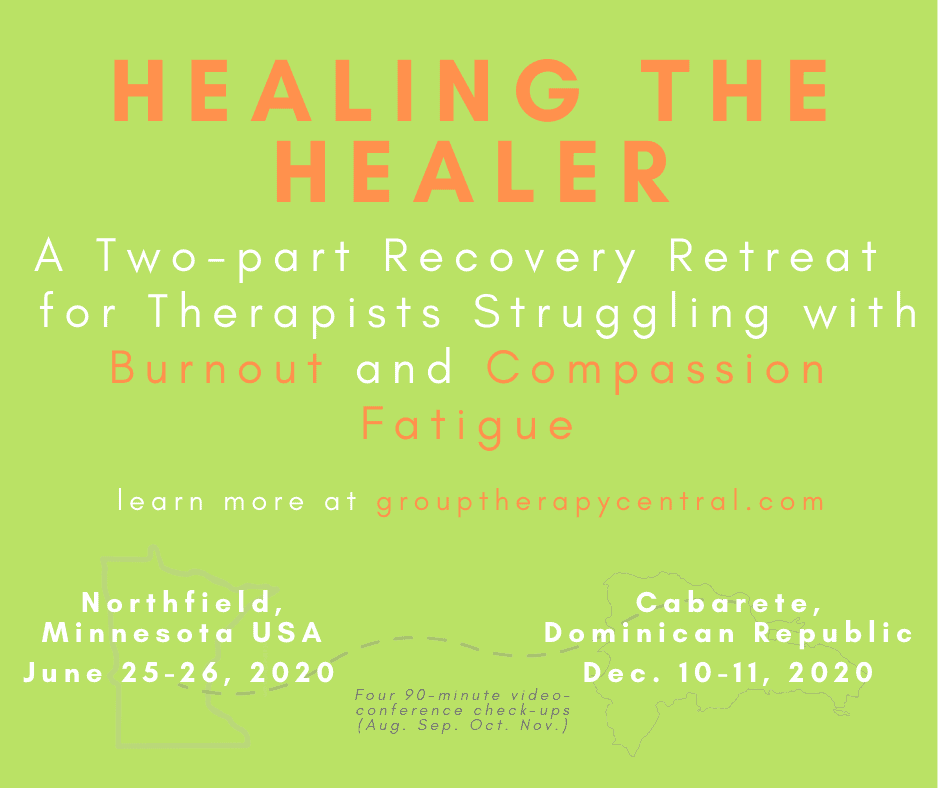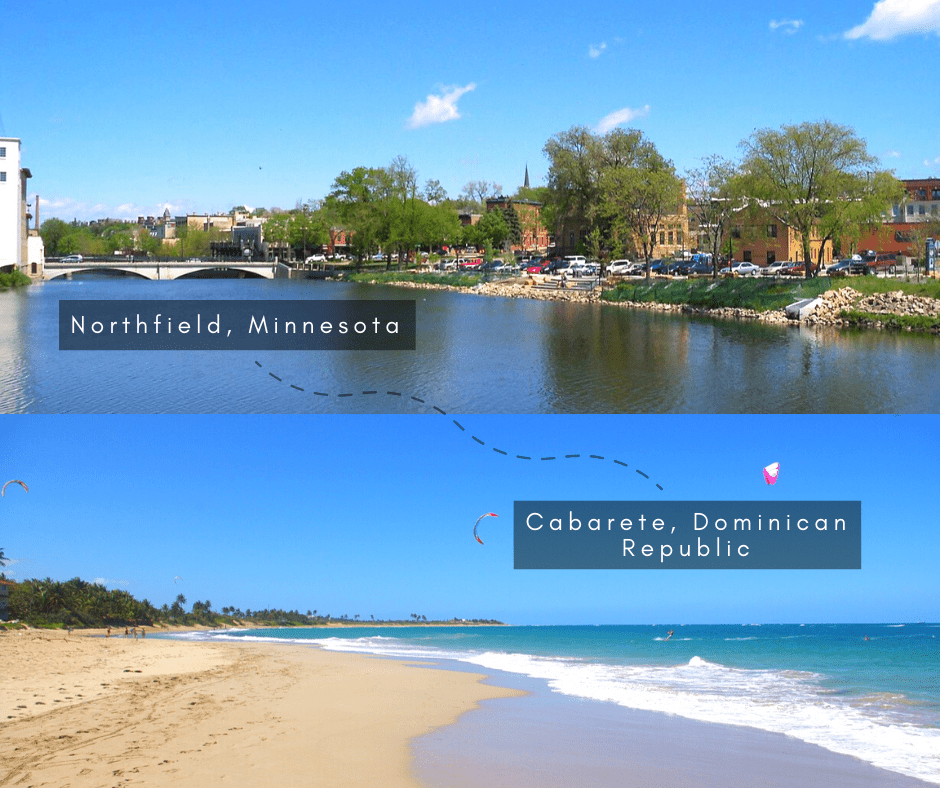 Due to the COVID-19 pandemic we are re-evluating this retreat program. Our current plan is to post-pone this program to next calendar year, and this summer offer some 1/2 day small group virtual retreat programs for therapists.
DESCRIPTION
This two-part retreat package is designed for therapists that were once were passionate about their work and full of empathy for their clients, but now feel burned out and are slower to connect to those feelings of compassion and care toward their clients (and possibly toward their family, friends, and co-workers).
The retreat days will indeed be healing, transformational, energizing, and a lot of fun! There will be plenty of laughter, some healthy tears, and a strong sense of cohesion that you will develop with Nate and with your fellow retreaters that have been struggling with similar concerns. You will feel a resurgance of the passion and care that you once had, and you will re-enter your work with renewed energy and empathy.
However, it is important to note that the primary goal of this retreat program extends beyond the actual days that you will spend with us engaging in recovery and prevention work. You need your life to change in a sustainable way, which is why we invest significant time and energy on (1) assessing all aspects of your life that led to your burnout and compassion fatigue (CF), and (2) creating a meaningful and realistic plan to continue your recovery journey and prevent future risk of burnout and CF. It is for this reason that we could not, in good faith, simply hold a one-part retreat. We believe that real recovery from true burnout is a long process. Dr. Geri Puleo asserts that most people need 6-24 months to recovery from burnout (you can click here to watch her TED Talk on Burnout and Post-Traumatic Stress).
We also believe that healing from burnout and compassion fatigue is done best in connection to others. This is why we are limiting this retreat to a small group (7-9 people) and why most of the work during the retreat days will be in this small group.
Please continue reading this webpage for more details about this two-part retreat program!
PART ONE (Northfield, Minnesota)
Our first two days together will be in Northfield, MN (my home town) on Thursday and Friday June 25-26, 2020. The entire retreat will be limited to a small cohort of 7-9 participants, and a significant portion of your work will be done in this small cohort of fellow therapists. We will work from 9:00am until 4:30pm each day, with a 90-minute lunch break.
Our days will alternate between small group work, short breaks, and self-reflection time.
The practice of mindful self-compassion (and mindful other-oriented compassion) will be included in all aspects of the retreat. Once you develop trust that your cohort-mates will lead with compassion and understanding (and that you will treat yourself the same), it allows us to be more authentic, open, and willing to appropriately challenge ourselves and others. Participants will practice the healing process of fully accepting ourselves as we currently are (including burnout and compassion fatigue) before working on changing ourselves.
The first part of the retreat will focus on assessing your past. We will work toward honest insight into all that led up to your burnout and CF. We will explore your professional job as well as personal life to get in touch with what fills you with energy and what drains your energy. We will explore those things that you have control of as well as the things outside your control. We want to gain insight into your personality and your way of moving through life, and also understand your context and the larger system(s) in which you work and live. This self assessment work will lay the foundation for the next two parts of the retreat.
The second part will direct our focus on the here-and-now of our experience together. We will explore our in-the-moment experiences of burnout and compassion fatigue contrasted with feelings of being energized and connecting with compassion. Participants often identify this here-and-now work as being the most powerful and meaningful component of the retreat.
In the final part of the retreat in Northfield you will get to unleash your motivation to make changes as we practice constructive daydreaming and developing a realistic plan for your next six months (and beyond). We will also invest time in exploring how you want our small group cohort to support your during the next several months leading up to our second retreat in Cabarete, Dominican Republic.
Note - there is the possibility of receiving
10.5 continuing education credits

for the Northfield portion of the retreat, and you may elect to use professional development funding to cover costs of the retreat. We will provide you a list of the learning outcomes, presenter qualifications, schedule, and other needed information to show an employer, and can also give you a certificate of completion at the end of the retreat.

This picture (below) is of a new sculpture called "Waist Deep" in downtown Northfield. It was created as part of a project with students from Northfield High School. Most people view this sculpture as a reminder of how important it is for us to reach out for help when we are in need, and also to reach out and help others when they are in need. We will take a group photo with this statue as a nice reminder of our work helping each other recover from burnout and compassion fatigue.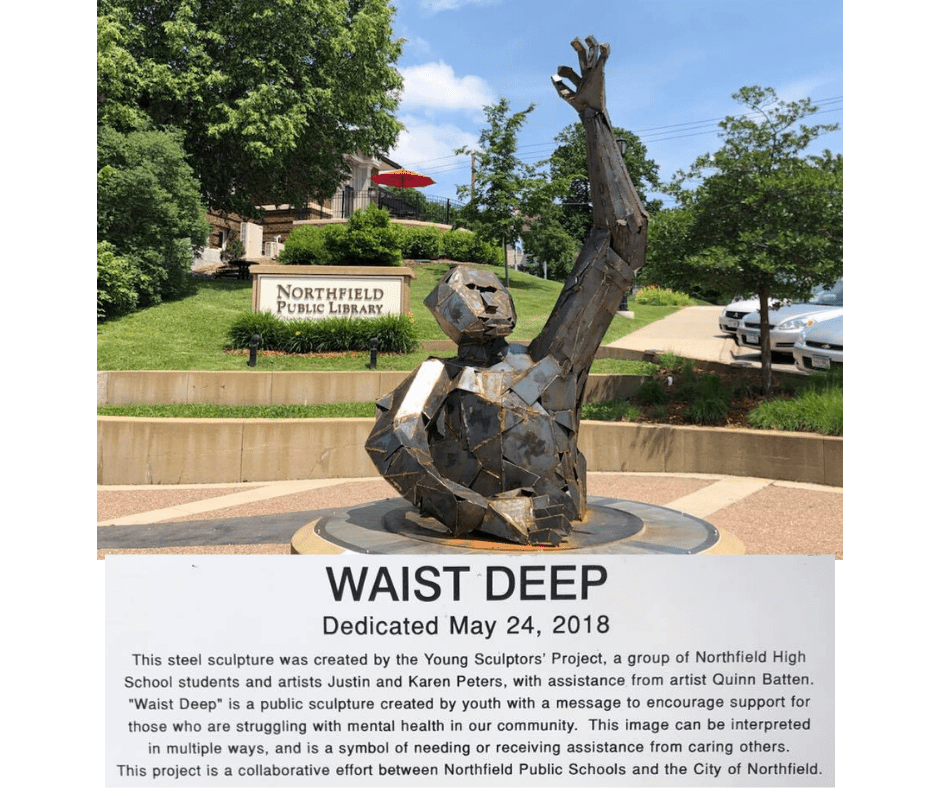 "HALF TIME" (The Months In-between Northfield and Cabarete)
You will to have four 90-minute virtual small group meetings (through Zoom) with Nate and your cohort. We will schedule these sessions at a convenient time for everyone, likely on a weekday evening or weekends.
These small group virtual meetings are a space to continue supporting each other in the changes that we are working to implement into our lives.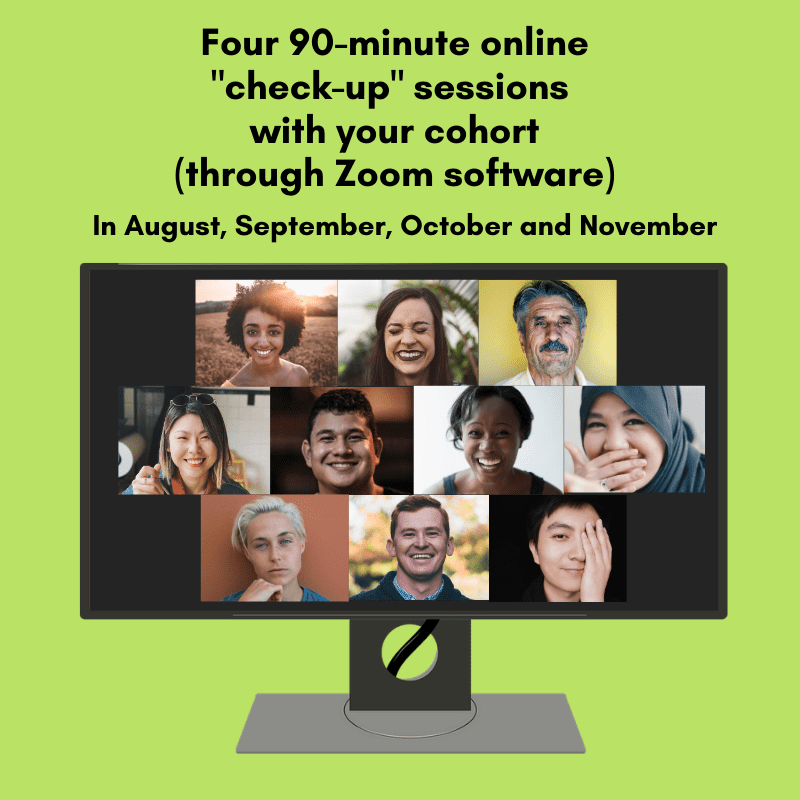 PART TWO (Cabarete, Dominican Republic)
We are curios to see how the COVID-19 impacts travel in the US and the DR, and are prepared to make adjustments as needed.
Our last two days together will be in Cabarete, Dominican Republic on Thursday and Friday December 10-11, 2020 (and we highly encourage you to spend more time in the DR before and/or after our retreat days).
In my undergraduate years I spent four summers in Cabarete working for DREAM (Dominican Republic Education and Mentoring Project). I fell in love with the relaxed feel of the small town, the friendly locals, and the many small family run businesses. The beach is also one of the top in the Carrebean. I would usually try to sneak in a run/walk along the 2 kilometer beach during sunrise. Not many people know that Cabarete beach is one of the longest stretches of uniterrupted beach in the DR.
Some people call Cabarete the Kite Surfing Capital of the World. Several top world competitors live and practice there, and Cabarete has hosted numerous world-class competitions including the world championships.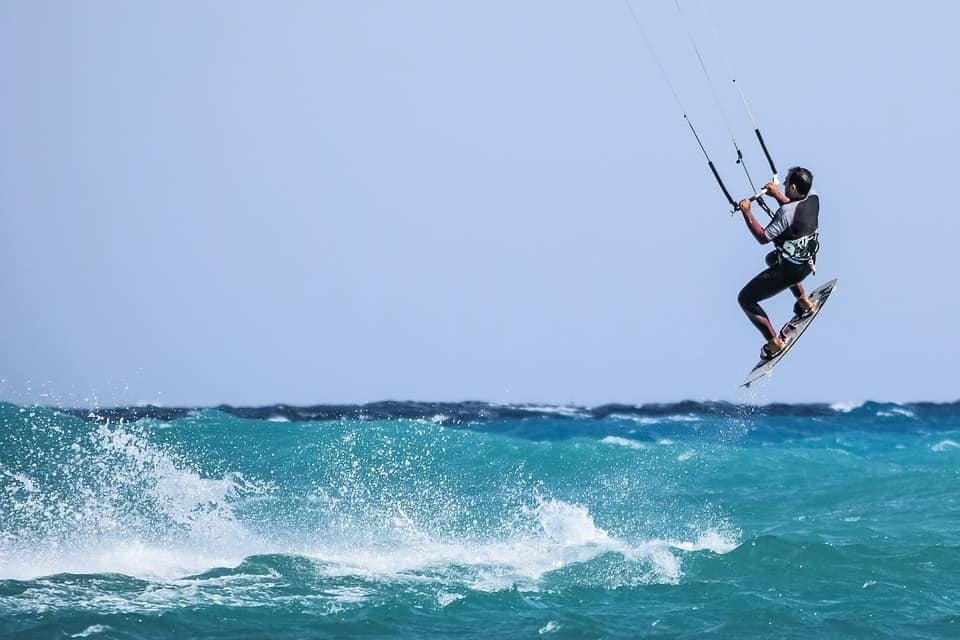 The structure of our retreat days in Cabarete will be very similar Northfield. We will again work from 9:00am-4:30pm each day with ample breaks and a 90-minute lunch. Our focus will progress from assessing your past several months, to attending to our here-and-now experience together, to planning for your future. We will be interested in understanding and celebrating any successes you have had since our previous retreat, and we will be just as curious about any perceived "failures" or ways that you still feel stuck in burnout and compassion fatigue. Most of our group interventions will again be centered on mindful self-compassion and you will experience an overabundance of empathy and care regardless of how much you have been able to efectuate change in your life and on your burnout/CF recovery journey. We will also invest time in exploriong any possible interests in continuing the life of this cohort after the ending of this retreat.
As mentioned above, we would highly encourage you to spend some time in the Dominican Republic outside of our retreat days. Early/mid December is one of the better times to visit the DR because it is well after the hot summer months and Hurricane season yet just before the busy tourist crowds of Late December to Late April. The weather can be hard to predict, but the tropical climate is always so much better than my Minnesota weather in December. 🙂 The rain showers are rarely an inconvenience for travelor's plans and usually last 5-10 minutes. Some weeks in December will have a rain showers every day while other weeks will not have a dark cloud in the sky for days at a time.
My top recomendations for near Cabarete would be Sosua Beach (and remember to purchase a few bananas for the fish if you plan to snorkel), and the 27 Waterfalls of Damajuaga Tour in Puerto Plata. If you want to stay in town you could take kite surfing lessons right on Cabarete beach, or simply relax and soak in the sun for a few days.
If you want to venture away from Cabarete there is a whole host of amazing places in the DR. A couple hours away on the Samaná Peninsula you will find some of the most pristine and beautiful beaches in the world. You won't find too many tourists in Samaná. I visited Samaná twice and each time spent several hours at a few different beaches where my partner and I were the only human beings on location. Other possibilities include the all-inclusive resorts in places like Punta Cana. The country's capital, Santo Domingo, is regarded as the Oldest City in the New World and has fascinating historic sites, museums, and 16th century architecture.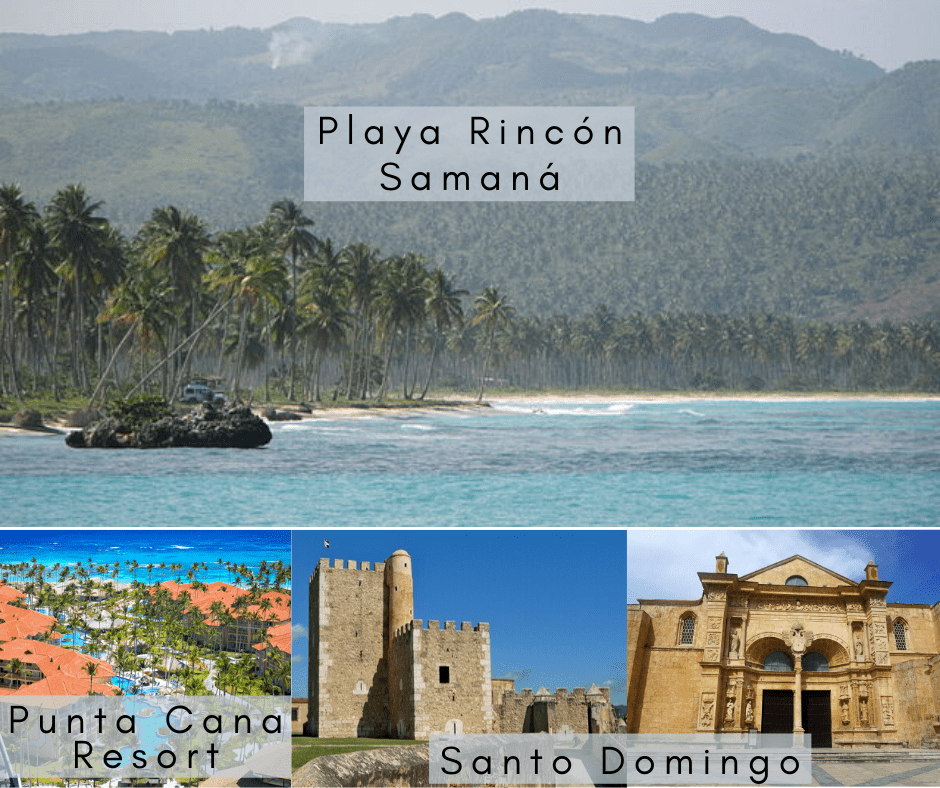 Click here for some Travel Tips for the Dominican Republic that can help you prepare for departure.
Note - You can receive 10.5 additional continuing education credits for the Cabarete portion of the retreat, and you may elect to use

professional development funding

. Just like in Northfield we will provide you a list of the learning outcomes, presenter qualifications, schedule, and other needed information to show an employer, and can give you a certificate of completion at the end of the retreat.
Pricing
We offer two packages ("Bare Bones" and "Basic") but we are also more than happy to compile a customized package that better meets your needs.
"Bare Bones" Package
$1,750.00 USD (TOTAL)
Northfield, MN
($875.00 for Retreat and nothing else)
Cabarete, DR
($875.00 for Retreat and nothing else)
You rate will cover full participation in the entire retreat program, while you will plan for and cover all other costs (lodging, food, travel).
Basic Package
$2,610.00 USD (TOTAL)
Northfield, MN
($1175.00 for Retreat PLUS private hotel room for Thu and Fri nights, 2 complementary Yoga classes at Heartwork Yoga Studio, airport pick up and drop off). Food and airfare/travel are not covered.
Cabarete, DR
($1435.00 for Retreat PLUS eco-friendly top-rated private hotel room for Thu/Fri/Sat nights, daily farm-to-table organic beachfront breakfasts and dinners -friendly for vegetarian and gluton-free or dairy-free diets-, complementary morning and evening yoga classes, airport pick up and drop off, optional tour of organic farm with river tubing and farm fresh meal). Airfare and lunch are not covered.
You rate will cover full participation in the both retreats, plus accomodations for 5 nights (2 in Northfield and 3 in Cabarete), breakfast/dinners in Cabarete, and airport pick-up and drop-off, plus some other nice amenities. Airfare and some meals are not included.
Custom Package
We can discuss your needs and provide you a quote for the services you desire. Forexample, you may want us to cover everything including airfare, or you might want to have the "Bare Bones" Package for Northfield and the "Basic" Package for Cabarete.
Please complete the Online Application if you would like to take the next step toward seeing if this retreat is a good fit for you.
You can also email me at
nate@grouptherapycentral.com
with any questions or concerns. I am happy to answer your questions through email or to schedule a free 15 minute consultation so that we can talk in person.